Hello Shiny, Happy People!
I first heard of a fun, folksy musical group called
the Wiggly Tendrils
via
Juliette Crane's Blog
. Their music is just so quirky and easy to listen to! The best part is that they take requests! They use your concepts....your words....and for free, no less, write a song just for you! They created a song for her about her E*course called How to Paint an Owl :)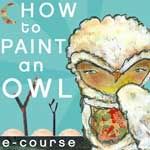 I was up late last night perusing the Blogosphere...and decided to request my own song!
Here's the info I gave them....
What is your song idea?
In the magic of the night, awake when everyone else sleeps...I paint. I create. My heart is young, my art is fantasy, my older self lends it's wisdom without worrying about grey hair or eating too many carbs. I get lost in a world of mermaids and unicorns....find happiness in a place of pens, brushes, paint tubes and canvas....trade my crows feet in for wings of imagination, exchange my age spots for smears of paint...

There is magic in that liquid, like the waters of the fountain of youth...it re-energizes my spirit and masks the weariness that creeps into my bones...

I dare not succomb to the soft sounds of sleep in the air...for there will be plenty of time to slumber when I can no longer hold a paintbrush...and the Muse no longer whispers to me in the stillness...

Describe your song in one word: Escape
I was feeling a little melancholy, if you couldn't tell...haha! But I love the song :)
Would you care for a song to add to your Life's Soundtrack? ;P
Biggest of grins,
Cameron